Click Any Image to See Larger View

Grand Parlour
Inspired by the Gallery of Mirrors Hall in Versailles Palace, this is the signature of the Melange with mirrors and candelabra on opposite ends to create depth. The large room features scenes from the four seasons depicted above, symmetrically spaced doorways, a parquet floor built true to the original, a marble fireplace, ornate lamps and period frames. A popular private dining venue during the Holiday season.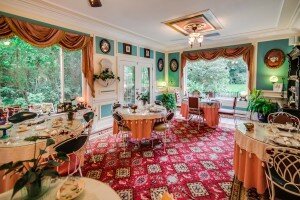 Greenhouse Room
Now a breakfast room, the Greenhouse is a sunroom with plenty of natural light. The orientalist theme on the walls is reflected with vintage portraits of ladies from the East. The private dining corner has a loggia view of the Matisse Fountain Lawn and the gardens.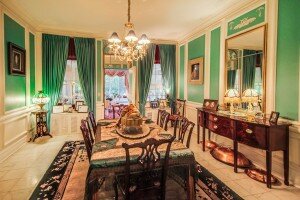 Turquoise Room
The formal Dining Room of the Melange is a popular venue for private dining and celebrations with small groups. The play with light from mirrors on all walls and doors provide visual depth to create an olde world glamour. The ornate plaster work over mirrors and doors is original.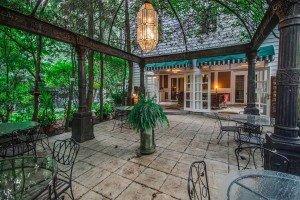 Mediterranean Courtyard
The venue personifies the charm and nostalgia of a courtyard from southern Europe. Highlighted by a massive gazebo with overhead vines, Moorish brick and wrought iron accents, it is the perfect setting for special events and private candlelight dining.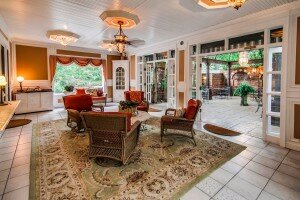 The Sunroom (East Porch)
Surrounded with the warmth of natural light, show plants and plenty of color, this is an enclosed, multi-purpose setting. Opening to the Mediterranean Courtyard and to the Pan Fountain Patio, the orientalist theme is continued with vintage portraits of ladies from the East in ornate frames. May be used as a ceremony or reception venue.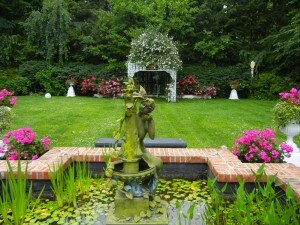 Matisse Garden
Named after a bronze of the French artist Matisse, this park-like setting is the first impression of the Melange for the arriving guest. April into November, the garden has a continuous color palette. The wrought iron gazebo is the favorite spot for nuptials as well as the most photographed setting as a departing souvenir. 
Nestled between lush greenery on three sides, the patio and lawn combination is an intimate backdrop for a special event. A giant maple tree dominates the scene, the romanesque arbor with brickwork and the Pan-Fountain accent the rest.

Tile Pavilion
An all-weather party venue in the gardens, the pavilion is named for its colorful tiles from Turkey. With its inviting and happy ambiance full of natural light, the Tile Pavilion is ideally suited for corporate events and larger wedding receptions alike.