Garden & Indoor Wedding Ceremony, Reception & Rehearsal Dinner Venues
Tile P

avilion:      (Indoor/Outdoor Wedding Ceremony, Cocktail Hour, Reception and Rehearsal Dinner)
The multi-purpose venue with 2,750 sq.ft. of enclosed event space is named for its colorful tile panels from Turkey. With plenty of playful light from tall mirrors and windows, with art deco style lamps and antique wrought iron tables and chairs, it is eclectically joyful and nostalgic. On multiple platforms, there are dance & live music areas, a bar for beverage service, a food service section, and a festive arbor. Additional 2,000 sq.ft. of custom display and cocktail hour space  immediately outside the pavilion.  Conditioned March-December,  all hook-ups, sound system and WiFi.  Capacity: 35+ to 100+ guests.

Matisse Fountain Lawn:      
(Outdoor Wedding Ceremony)
Equally popular with small and large weddings, the garden venue faces the historic home and is bordered with tall trees on the other three sides. An art-deco fountain featuring a bronze attributed to Matisse and a wrought iron arbor assembly adorn the park like setting of 6500 sqft. Continuous blooming April-October, outdoor loud speakers, custom hook-ups and WiFi.  Capacity: 35+ to 100+ guests.

Pan Fountain Lawn and Patio:      (Outdoor Wedding Ceremony, Cocktail Hour, Reception and Rehearsal Dinner)
Nestled between lush greenery, this two-level grass and cut-stone patio area of 2200 sq. ft. is ideally suited for an intimate wedding. A timeless maple tree towers over the venue. A Romanesque arbor of columns and brick with a fountain featuring a bronze of the mischievous Pan amongst water plants is a classic. Continuous blooming May-October with container plants. Outdoor music system and WiFi. Capacity: 10+ to 75+ guests.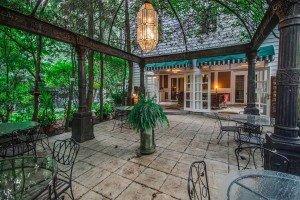 Mediterranean Courtyard:      (Outdoor Wedding Ceremony, Cocktail Hour, Reception and Rehearsal Dinner)  
The 650 sq. ft. venue is our showcase setting where a cast iron arbor,  playful brick décor, and wrought iron seating attempts to create the old-world charm of southern Europe. Spring through Fall, the courtyard may be combined with the 500 sq.ft East Porch for additional functions. Outdoor music system, custom set-ups and WiFi. Capacity: 2+ to 30+  guests

East Porch: (Indoor Wedding Ceremony, Cocktail Hour, Reception and Rehearsal Dinner)  
Surrounded with the warmth of natural light, show plants and plenty of color, this is an enclosed, multi-purpose setting of 500 sq. ft. opening to the Mediterranean Courtyard and to the Pan Fountain Patio.  The East Porch and Mediterranean Courtyard may be combined as a ceremony, cocktail hour, or reception venue.   Outdoor music system, custom set-ups and WiFi. Capacity:  10+ to 25+ guests
Well-appointed dining room with 500 Sq. ft. and lots of windows.  Ideal venue for Bridal Brunch or Wedding Rehearsal Dinner.  Indoor music system and WiFi. Capacity: 2+ to 25+ guests
Grand Parlor:     Inspired by the Gallery of Mirrors Hall of Versailles, this is the signature of the Melange with mirrors and candelabra on opposite ends to create depth, with scenes from the four seasons above symmetrically spaced doorways, with the parquet floor built true to original and with a marble fireplace, ornate lamps and period frames.  Perfect for small or intimate weddings. Capacity: 2+ to 10+ guests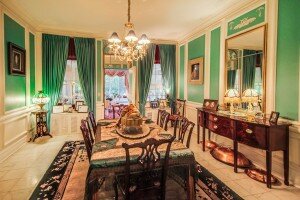 Turquoise Room
The official Dining Room of the Melange is a popular venue for private dining and celebrations with small groups. The play with light from mirrors on all walls and doors provide visual depth to an olde world glamour. The plaster work over mirrors and doors is original. Capacity: 2+ to 10+ guests